The Asian manufacturer J&W offers a new fanless nettop.
This nettop is based on the Cedar Trail low power platform. It uses an Intel Atom N2600 at 1.6 GHz, Intel Atom N2800 at 1.86 GHz or Intel Atom D2550 at 1.86GHz, combined with 2 GB DDR3 RAM – expandable to 4GB on one slot.
It offers a video solution with 1080p VGA/HDMI, HD audio with headphone/microphone, Gigabit Ethernet and a Wi-Fi 802.11 n wireless network. It also offers a 32 GB SSD storage or a 320 GB 5400 rpm hard disk drive, a MMC/MS/SD slot, three USB 2.0 ports and a serial port.
All in a package that combines aluminum and plastic presenting dimensions of 13.5 x 12.8 x 3.4 to 4.6 cm – with thicker disk.
Availability is scheduled for September. It will cost $260 for the configuration M0001-AP6 with white case, SSD storage and  Atom N processor, while it will cost $300 for the M001-AP1 configuration with black case, hard drive storage and Intel Atom D.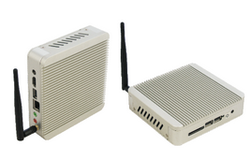 The two available configurations: white with SSD and black with HDD